Congratulations to the 2015 WCPG Honorific Awardees
Ming Tsuang Lifetime Achievement Award – Professor Sir Michael Owen, Ph.D., FRCPsych, FMedSci, FLSW
The Ming Tsuang Lifetime Achievement Award is given to a scientist who has made a significant contribution to the advancement of the field of psychiatric genetics.
Theodore Reich Young Investigator Award – Sarah Medland, Ph.D.
The Theodore Reich Young Investigator Award is given for published work on psychiatric genetics that is of exceptional merit. Candidates must be 40 years or younger in 2014 for consideration and need not be members of the Society. The award is available annually, but will not be made in the absence of any work of sufficient merit.
Richard Todd Award – Christie Burton, Ph.D.
The Richard Todd award is given each year by the ISPG to a researcher for an outstanding contribution to the genetics of child psychiatry. Richard Todd (1952-2008) was an internationally known expert on the influences of genetics and environment on psychiatric illness in children. The recipient is selected by the Awards Committee, based on abstracts accepted for oral presentation at the World Congress of Psychiatric Genetics.
Gershon Paper of the Year Award – Biological Insights from 108 Schizophrenia-associated Genetic Loci, Nature 511:421-7, Awardees: Michael O'Donovan & Stephan Ripke
The International Society of Psychiatric Genetics (ISPG) presents the Gershon Paper of the Year Award to a recipient who has been published in the past year (June, 2014 to present) in the psychiatric genetics field. The submitter and first author must be a member of the ISPG. The recipient of the award will receive a plaque during the 2015 Annual Congress in Toronto, Canada.
Hugh Gurling Memorial Award – Vanessa Ota, Ph.D.
The Hugh Gurling Award will be based on the best oral presentation or poster submitted at the World Congress of Psychiatric Genetics by an eligible investigator. Eligible investigators are defined as those who are from a non-Group A World Bank country, and who reside in such a country at the time of the meeting. The winner will be honored by a certificate from the Society, and the resulting manuscript, once submitted to the journal and passing peer review, will be featured in the journal under the byline "Hugh Gurling Memorial Award Paper." 
Previous Awards
Previous Lifetime Achievement Award Winners

1993: Seymour S. Kety and George Winokur
1995: Ming T. Tsuang
1997: Irving I. Gottesman
1999: Theodore Reich
2001: Michael Conneally
2002: Jules Angst and Nikki Erlenmeyer-Kimling
2003: C. Robert Cloninger
2004: Peter Propping
2005: NONE
2006: Elliot S. Gershon
2007: Peter McGuffin
2008: Jurg Ott.
2010: Susan E. Folstein
2011: Kenneth Kendler
2012: Raymond Crowe
2013: John Nurnberger
2014: Margaret Pericak-Vance
2015: Michael Owen
Previous Theodore Reich Award Winners
2004: Carol Prescott
2005: Laura Almasy and Nigel Williams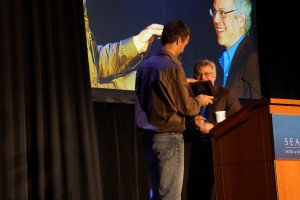 2006: Thomas G. Schulze
2007: Alexander B. Niculescu III
2008: Shaun Purcell
2009: Jonathan Sebat
2010: Elisabeth B. Binder
2011: David Glahn
2012: Danielle Dick
2013: Stephan Ripke
2014: Benjamin Neale
2015: Sarah Medland
Previous Richard Todd Award Winners
2009: Jonathan Sebat
2010: Joseph D. Buxbaum
2011: Danielle Dick
2012: Anke Hinney
2013: Geert Poelmans
2014: Nadine Provencal
2015: Christie Burton
Previous Elliot Gershon Paper of the Year Award Winners
2014: Thomas W. Muhleisen
2015: Michael O'Donovan and Stephen Ripke